Things I am loving Friday
1.
Heartwarming Stories in the news, instead of all the negative.
via fox8: Four days before Baylor University basketball star Isaiah Austin hoped to be drafted into the NBA, his dreams of playing in the pros were extinguished by a rare genetic disease called Marfan syndrome.
On Thursday night, the NBA pulled off a classy and emotional move by "drafting" him in the first round and helped him fulfill his dream. Very cool.
via
+USA TODAY
Adreian Payne captured the hearts of many basketball fans around the country last season because of his friendship with Lacey Holsworth, a young Michigan State fan who lost her battle with cancer shortly after the NCAA tournament.
Months after her death, Payne honored Lacey at one of the biggest days of his life — the NBA draft — where he brought her mom, Heather, as one of his guests.
So what would Lacey say if she was at the draft?
"She would definitely give me a big hug and tell me she loved me," Payne said.
Payne, who had a tribute to Lacey in his suit jacket, was selected with the 15th pick by the Atlanta Hawks.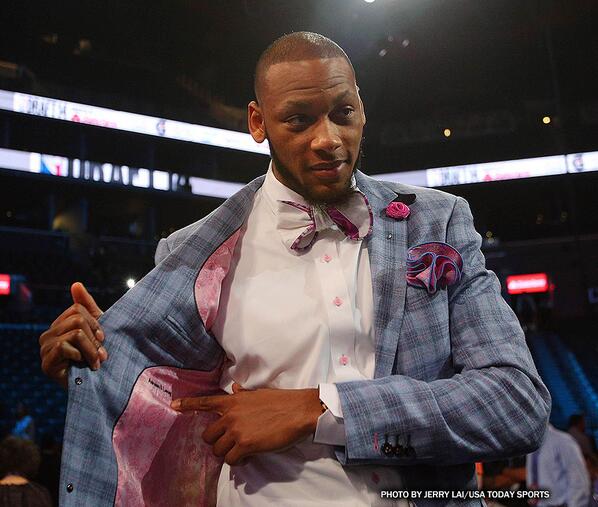 I hope this guy does big things in the NBA! I just love every part of his and Lacey's story. What a bond they formed. That is why I wish college athletes who are continually
partying it up, getting in fights, driving drunk, doing stupid things, c
ould see what an impact they have on children and kids who watch them. One of the highlights of my collegiate athletic career were the camps we ran during the summers. We as athetes had the opportunity to instill work ethic, knowing right from wrong, and helping to develop their skills....
end rant
2. As most of my readers know our
Football Coach in Parkersburg was murdered
and Tuesday was the 5th Anniversary. This video was posted by someone and I had never seen it and the message hit me like a mac truck. It was done about two months prior to his death... if you do anything today, please watch this...
Video
here( scroll down my page and click on the video of Coach Thomas)
3.
Happy Dancing...
heading home this weekend for the Butler County Fair...it's time for some scrambles and chuckwagon racing...
(if you type Butler County Fair in my search box you can see all our adventures)
4
. I think that about does it, I just leave with you my workout from this morning. I was a hot sweaty mess as usual.
5. Oh, one more thing...Bubba won a prize from our friends Open House celebration, you would of thought he he had won the lottery...he was so excited and kept telling me this was the best day ever!! Wow, Doc Striegel...
you trumped Christmas
6. Okay, last one, I promise. I have had to work late a couple nights this week but one of the nights was for the Glenn Miller Orchestra performance...my husband calls me
an old soul
because I just love listening to music from the 40's and 50's(
it takes me back to days on my grandpa's farm sitting in the corn crib watching him work on his tractor and chatting about everything and anything)
Alright, so that wraps it up, finally!
What is one feel good story you have seen in the news?
Do you enjoy music from the 50's?